---
About Our Club
The club is located on the west side of State Route 534, 10 miles south of I-90 or 2 miles north of US Route 6, in Hartsgrove, OH in Ashtabula County. The street address is: 4323 State Route 534, Hartsgrove, OH 44085-9540. For those of you with a GPS receiver, go to N41° 37.86' W80° 57.186' or check Google.

Activities available to the members: two rifle ranges (100 and 200/300 yards), two 50 yard pistol/rimfire ranges, trap and skeet ranges, 5-Stand, dog training/Field Trials, archery range, Practical Pistol and 3-Gun matches, picnic pavilion, camping, fishing, hunting, education and conservation.

The club maililng address is Crooked Creek Conservation Club, PO BOX 275, Perry, OH 44081-0275
Map of Club Grounds
Membership Application
Newsletter August 16, 2014

Please print double sided on 50# (Greeting Card) paper if possible.
Cut out application to 6" x 4".
Or pick up an application at the main club house.

Rules of Conduct

New membership applications require a Club Member to be listed
as a reference on the application. Use the REF: ___ field
in the upper left corner of the application.
Please leave the Membership # field BLANK!

Please note the Ohio Sales Tax has been raised to 6.75%!

Target Stands - how to use
Fresh sticks have been placed with the stands on the pistol bays.
Please bring cardboard and a staple gun with you.
Please return the stands under the cover when you finish.
This will protect them from the weather and allow the grass to be cut.
Summary of Activities
Club Calendar of Events
Range Rules

Members only page.
(updated 6/24/2013)
Please read the new item on Range Safety!
Username is range. Use the 2014 gate combination for the password.

2014 Gate Combination
is now in use.

Spin the numbers once you open the gate!

Work Party Dates:


Winter - Saturday, December 13, 2014
Spring - Sunday, May 3, 2015
Fall - Sunday, October 18, 2015

Start Time: 9:00 AM

(PDF files require Adobe Acrobat Reader)
---
Rifle Range Safety Course
The range safety course, required for all members who wish to use the rifle and pistol ranges, is conducted on the Second Sunday at 12:00 Noon from March to January. Members need only attend once. A green badge will be issued and then you are welcome to use the ranges.
---
Range Closure
All ranges will be CLOSED on Monday, December 1 & Tuesday, December 2 for the first two days of Deer Gun Season.
---
Friday, May 29, 2015 at LaMalfa
in Mentor
Until 12/31/2014,there is a PRE SALE DISCOUNT that make the ticket price $120. That price is not shown on the flyer.
---
Found a spotting scope on 200 yard range
Call Jeff Frischkorn at 440-567-5036
describe the scope and it will be returned.
---
2014 FIELD TRIAL SCHEDULE
September 7

(Regular & Water Trials)

Cancelled

-due to lack of volunteers!
October 5 (Regular & Water Trials)
October 26 (Regular & Water Trials)
November 23 (Regular & Water Trials)
December 14 - Jack Davis Memorial (Regular & Water Trials) & Youth

RESERVATIONS - CINDY ROGGE: 440-858-2855
CHAIRMAN - DENNIS MEINKE
RESERVATIONS CLOSE AT 9:00 PM THURSDAY PRIOR TO TRIALS
ENTRY FEES:
$15.00 - PIGEONS
$25.00 - 2 CHUKARS
$30.00 - 2-PHEASANTS, 3 CHUKARS, OR 2 HUNGARIAN PARTRIDGE
You can receive information on the birds available when you reserve your runs
CANCELLATIONS MUST BE MADE PRIOR TO CLUBS ORDERING BIRDS!
PLEASE ARRIVE 1 HOUR BEFORE YOUR RUN TIME
NO RUN TIMES ARE GUARANTEED AFTER 2:00 PM.

HUNTERS ORANGE IS REQUIRED.

Memorial / Honor Trials will have "Dogs of the Day" awarded, as well as the "Senior Dog" class for dogs 9 years and older, with same judging as Open and will include up to 4 placements.
There will also be a Youth Hunt on Dec. 14th. Youth run for free and not under judgment, but must sign up in advance.

Classes:
Puppy: to 15 months
Derby: 16 to 30 months
Open
All Age: greater then 30 months
Senior: 9 years+
---
Trap & Skeet
Open Sunday's from 10:00 AM to 4:00 PM
Occasionally, the clay target venues might be closed on a Sunday for unanticipated reasons. For instance, we were closed two days in 2007 because of storm related power failures. We were also closed two days because the snow was so bad, we could not get the plow to the clubhouse. If you have any question whether or not the club is open for shooting, we suggest you call (the phone number for the clubhouse is 440-474-4201) to confirm the club is open before making the drive.
We need Trap & Skeet desk volunteers as many Sundays have no desk coverage. If we do not have volunteers signed up, then we will not be open that Sunday. If you want to shoot, please sign up to cover the front desk. I will not continue to man the front desk when individuals that are signed up do not show up or do not have the courtesy to call and say they cannot make it on such and such a date. We have a large number of shooters and the numbers are growing. New members / new shooters -- Please sign up to take a few Sundays on the front desk or five stand this year and next. Sign up in the book at the clubhouse.
There are plenty of openings on the calendar!
Very few dates have been taken in 2014!
And 2015 is now open for signup!
Pick your day to work the Trap & Skeet desk or the 5-Stand.
To Volunteer or get more information, contact
David Nofziger at (440) 679-0412.
The phone number for the clubhouse is 440-474-4201.
Note: the phone will only be answered on Sunday, from 10:00 AM to 4:00 PM.
Or when the Trap & Skeet Fields are open.
Our Trap machines came from

---
5-Stand
5-Stand is a variation of Sporting Clays shooting. Each round consists of 25 targets being shot from 5 different shooting stations. We have seven traps to throw a variety of different types of target presentations.
We need more volunteers to assist with running the 5 stand.
Please volunteer!

Sign up in the book in clubhouse or call Pat.
If we do not have volunteers, we will not open the 5 stand.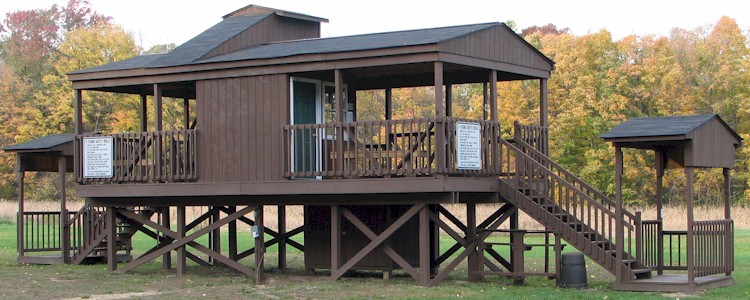 We need volunteers and shooters!
This is a good way to earn your work hour credits!
(if you volunteer to run the 5-Stand)
Please sign up to work one or two Sundays. Sign up sheets are on the desk in the main clubhouse. If you are an old or new member an would like to volunteer, but do not feel qualified to open and run the 5-Stand, we will provide training.
To Volunteer or get more information, contact
David Nofziger at (440) 679-0412.
There are lots of openings for volunteers! If the desk is not staffed, then Trap and Skeet or 5-Stand will not be open that Sunday.
---
Rifle Program
That's it for 2014.
See you next year!
September 20 match results are up!!!
For more information or to make your reservation,
call Don Helwick @ 440-354-9984
or e-mail ccrifles2012 a-t gmail d-o-t com
Our
50 yard

Rimfire range is finished with 20 covered firing points.
All CMP Rimfire Sporter matches will be fired at the regulation distances of 25 and 50 yards.
---
That's it for 2014!
Our next match will be in April 2015.
Bring your .22's (pistols, rifles and conversions), centerfire pistols and pistol caliber carbines. Scopes/red dots are OK too!
Registration closes at 8:45, be in line by 8:30 to be sure that you can get a scoresheet!
But, we need help with setup.
If you can help move steel, then please arrive by 8:00 AM!!!
Or Ed will put out the little steel again!
October 11, 2014 results are up!
---
Our next match is
Sunday, March 29, 2015
if we get the new bays finished?
Squads at 8:00 AM and 12:00 Noon
Please arrive by 7:30 AM for the early squad.
The afternoon squad will start shortly after the early squad finishes.
So please arrive by 11:00 AM to ensure that you can get registered.
Setup on Saturday, March 28th at 1:30 PM.
Please help setup and you can shoot one gun after setup.
The Nooks worked great! We'll be using Practiscore again. So you might want to go to Practiscore.com/Support and check out the tutorials on how to run Practiscore.
Since I figured out the Practiscore registration setup, you can register and select your squad at clubs.practiscore.com.
Squads 1-4 are for Saturday after Setup. Squads 5-8 are Sunday morning @ 8AM. And Squads 9-12 are for Sunday afternoon starting at Noon. Please register before 8:00 AM on Saturday, October 25. After 106 registrations last month, I need more time!
Registration went GREAT, so please pre-register. You must still arrive to sign in by 7:30, or you will have to wait until the afternoon squad to shoot. Those that show up late just delay the registration process for everyone. Show up early and we can get going sooner and get done sooner!
Contact Bud Connolly @ 440-259-3512 or stats_Bud a-t practicalpistol d-o-t net
The spammers found the old email address.
Please start using the new one above, as I have disabled the old one.
---
3D-Archery
2014 schedule
Target setup - March 30 @ 9AM
Shoots - 7AM to 12 Noon
CANCELLED
Look for new dates ???.
Contact Dave Buck (440-251-1105) for more information or to volunteer.
---
Now taking reservations for the next class tentatively scheduled for spring 2015. Let me know via phone or email (preferred because I then have a record of your interest) if you would like to take the class.
Cost: Crooked Creek Conservation Club members - $75.00,
non-members - $100
Make checks payable to:
Crooked Creek Conservation Club
PO BOX 32545
Euclid, OH 44132-0545
Contact Bud Connolly at 440-259-3512 or crooked_D_O_T_creek_D_O_T_email_A_T_gmail_D_O_T_com to reserve your place.
---
If you wish to have an item listed, send an email with the details to crooked_D_O_T_creek_D_O_T_email_A_T_gmail_D_O_T_com.
---
LINKS (updated 11/23/2014 - Added Trumbull County. All other links verifed working.)
United States Practical Shooting Association (USPSA)
Ohio Attorney General - Concealed Carry
Lake County - CHL Application Procedure
Geauga County - CHL Application Procedure
Ashtabula County - CHL Application Procedure
Trumbull County - CHL Application Procedure
---
Any comments, additions or corrections can be sent to Bud Connolly crooked_D_O_T_creek_D_O_T_email_A_T_gmail_D_O_T_com or 440-259-3512.